Isaac Stone murder case: Witness recalls nose-slicing cleaver attack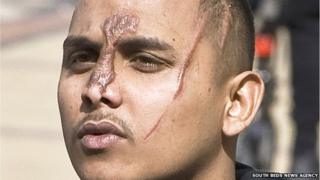 A man had part of his nose sliced off by a cleaver-wielding assailant during an attack in which his rapper friend was fatally stabbed, a court has heard.
Shajidur Rahman, 20, said he thought he and Isaac Stone, 19, were going to be involved in a street fist fight.
But Mr Stone was chased, trapped and stabbed several times, while Mr Rahman received severe facial injuries in the attack in Bedford on 25 January.
Four men, all from the town, deny murder and attempted murder.
'Everyone froze'
Mohammed Hussain, 22, of Maitland Road; Rubel Miah, 19, and Javed Miah, 21, both of Costin Street; and Fahim Khan, 20, of Fenlake Road; also deny two counts of possessing an offensive weapon.
Luton Crown Court heard the attack happened the day after a music video featuring Mr Stone - who performed under the name Dynamikk - was posted on YouTube.
Prosecutor Vincent Coughlin QC told the court that in the film, in which Mr Rahman and others also appeared, alcohol was sprayed over the name "Raz" that had been painted on a wall, which "upset someone".
Mr Rahman told the jury that Rubel Miah and Mr Khan had earlier told him they had "a problem" with Mr Stone.
Mr Rahman said he was in a Corsa driven by his friend, along with two other passengers, when they saw the pair in a white Range Rover.
"Everyone froze.... we said 'we have got to sort it'," he said.
"We did not think weapons were involved."
Mr Rahman said when they got out of the car he was hit "five or six times" by Mr Khan with what he thought was a hammer before he fled. Part of his nose was left behind.
The trial continues.