West Herts NHS trust fined nearly £90,000 over asbestos risk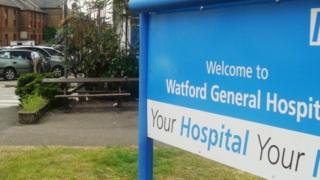 An NHS trust which put staff at risk to exposure from asbestos for 11 years has been ordered to pay nearly £90,000 by a court.
The West Herts Hospitals NHS Trust had referred itself to the Health and Safety Executive (HSE) in 2011.
It pleaded guilty to health and safety failings at St Albans Crown Court.
Judge Stephen Gullick criticised it for "very serious and persistent" failures and fined the trust £55,000 and ordered it to pay costs of £34,078.
Chief executive Samantha Jones, who joined the trust in 2013, said: "We have made significant changes in recent years to the way we manage and control asbestos across our hospitals, ensuring the risk of exposure is at the lowest possible level."
The trust, which runs Watford General, Hemel Hempstead General and St Albans City hospitals, was created in 2000 and introduced an asbestos risk policy in 2007.
But the HSE found prior to 2011, surveys into the presence of asbestos were deficient, the manager responsible was inadequately qualified and training and record keeping were lacking.
The court heard no risk assessments were carried out either before or after [the 2007] policy.
Maintenance staff in particular had been potentially exposed to asbestos, it was said. A total of 47 people involved in this work between 2000 and 2011 had been contacted.
'Grossly inadequate'
Prosecutor Adam Payter said none had developed an asbestos-related illness, but added there was "a real risk they may contract a disease in the future."
Passing sentence, Judge Gullick said: "Clearly, management and supervision was grossly inadequate in ensuring that the asbestos risk assessment policy was implemented.
"The failures admitted by the trust were very serious and were persistent [and meant] that wholly inadequate regard was had to the safety of their employees in the estates department, in particular."