Charleigh Disbrey and Mert Karaoglan 'took own lives' in 'death pact'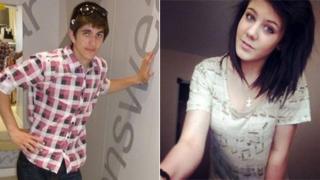 Two teenagers who died after being struck by a train took their own lives because they feared their relationship would not be accepted, a coroner said.
Charleigh Disbrey, 15 and Mert Karaoglan, 18, were killed near Elstree and Borehamwood station in Hertfordshire last June.
Hertfordshire deputy coroner Graham Danbury heard the pair died from multiple traumatic injuries.
"[They] decided that they wanted to be together in death," he said.
Mert, whose family was of Turkish origin, and Charleigh, both attended Hertswood Academy in Borehamwood.
They were struck by a southbound train about 200 yards north of Elstree and Borehamwood station at about 21:00 BST on 17 June 2013.
At the Hatfield hearing Mr Danbury said: "Because of Mert's background it seems like a relationship between him and Charleigh would not have been approved by his family.
"And it seems to me that such was the intensity of their feelings for each other that they ignored the effect that their acts would have on others - their family, their friends and the train driver - and decided that they wanted to be together in death."