Darth Vader scarecrow scoops Flamstead festival prize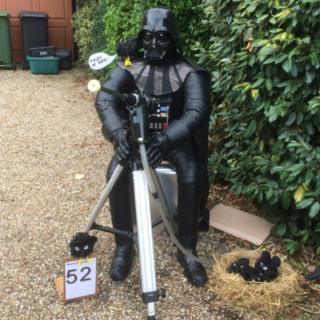 A Darth Vader scarecrow showed no mercy defeating about 90 others to scoop the top prize in a Hertfordshire village festival.
Andrew Lambourne's scarecrow triumphed in Flamstead's 13th annual scarecrow festival at the weekend.
It took the electronics worker two months "and a lot of hard work" to make the talking scarecrow.
A World War One tribute entitled "Lest we Forget", complete with a field of poppies, came second.
It is the second time Mr Lambourne has won the competition. In 2010 his Dalek scarecrow came first.
About 5,000 people descend on the village each year to view the scarecrows and cast their vote for their favourite.
The festival's founder Peter Milson, from Lincolnshire, introduced the idea to the village in 2002 as a fundraiser for the local church and it has run every year since, raising money for multiple sclerosis charity the Hertfordshire MS Therapy Centre.