Guinness world record for Luton straw boater-wearers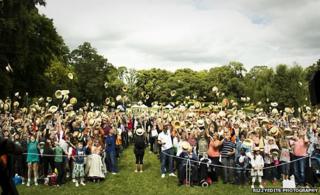 A town famous for hat-making has claimed a new Guinness world record for the largest gathering of people wearing straw boaters.
The event, organised by Luton's Wardown Park Museum, saw a group of 797 people wear the hats for five minutes, breaking the previous record by 547.
Organiser Karen Perkins, from arts charity Luton Culture, said she was "delighted" to "bring the record home".
It is 100 years since boater hats were first produced in Luton by milliners.
Sunday's event had been under threat after an order of 2,000 straw boaters was delayed on a boat from China, causing organisers to spend £1,000 on emergency "back-up" boaters.
The record attempt, in which participants were required to keep their hats on their heads, had some "breathtaking moments", said organisers, as "some hats fell off toddlers' heads, or were accidentally knocked off".
Ray Aldous, who attended with Roy Sanders, his best friend of 64 years, said: "We were delighted with how much hard work had gone into it and the turnout of people young, old and families.
"I've served in the RAF and am now 82 years old... but feel very fortunate and pleased to have taken part, both of us are... it's made me very proud."
Luton and the surrounding area was once the centre of the straw hat trade in England, producing a large share of all the women's hats manufactured and worn in the country. The town's football team are nicknamed The Hatters.
Ms Perkins said: "People of all backgrounds made up the 797 who wore their boaters with pride... bringing this record home where I believe it is most deserved.
"It was a wonderful event showcasing the spirit of community within our town - with many generations taking part."