Luton 'family punch-up' leads to five arrests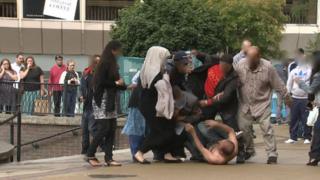 Five people have been arrested after a town centre brawl described by one passer-by as "like something out of a Western".
The fight, thought to involve up to 20 members of the same family, broke out in Castle Street, Luton at about 15:00 BST on Monday as shoppers looked on.
Paramedics treated a number of people at the scene for minor injuries.
Police said the five had been arrested on suspicion of assault during a "domestic incident".
A passerby, who saw the fight unfold, said: "All hell broke loose. It was like something out of a Western.
"Everyone was punching and kicking each other, women kicking and screaming at one another. I've never seen anything like it."
Bedfordshire Police said four men and a teenager had been arrested.
They are aged between 13 and 52, and are on police bail until October.