HMIC 'very concerned' at Bedfordshire police call response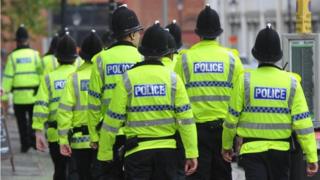 Nearly 100 extra officers are being recruited and trained by a police force after a watchdog found concerns over falling response times.
A report found a significant drop in the number of "priority calls" dealt with on target by Bedfordshire Police.
In 2010/2011, 77% of priority calls were attended within an hour. In 2013/2014, that dropped to 57.7%.
The Police Federation said the recruitment was "laudable" but it would take time to improve response times.
Olly Martins, Bedfordshire's Police and Crime Commissioner, said the force had "recognised" the problem and was working to address it.
Her Majesty's Inspector of Constabularies (HMIC), in its report on Bedfordshire Police, said: "In early 2014, HMIC found that Bedfordshire Police did not have a full understanding of its current level of demand.
'Alleviate the pressures'
"The force's response to calls from the public (both emergency calls and priority calls) has declined markedly. HMIC is very concerned about the deteriorated response to the public at times of need."
Mr Martins said the force agreed there had been an issue with response times in some parts of the county. He said 58 new officers had been recruited and were in training.
They are expected to be out on the streets of the county by December. A further 30 officers will be recruited this autumn, he said.
"This doesn't mean that until then policing levels are too low to cope," he said.
'Personally delighted'
"We have already made changes to the way we work to alleviate the pressures on demand and indeed our officers, including the introduction of fast response vehicles in parts of the county where that is most needed, changing shift patterns for PCSOs to make them even more visible, and working hard to double the ranks of our special constabulary.
"As a result we are confident that response times will improve."
Jim Mallen, chairman of Bedfordshire Police Federation, said: "I find it laudable that were are taking on numbers when other forces aren't recruiting at all.
"Response times will improve but not for some time. These officers, even the ones going through training, are going to need tutoring and to learn their police craft before any difference is made. But I'm personally delighted we are taking people on."