Luton hat-wearing threatened by slow boat from China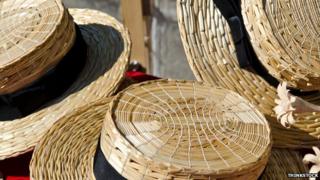 Organisers of a hat-wearing world record attempt have had to rely on a back-up plan after 2,000 straw boaters were delayed on a boat from China.
The event is taking place at Wardown Park Museum in Luton on Saturday to raise funds for its refurbishment.
Organiser Karen Perkins, from arts charity Luton Culture, said the hats were "still going through UK Customs" and may not arrive on time.
She has had to spend £1,000 on emergency "back-up" boaters.
The current Guinness World Record for the largest number of people wearing a straw boater at any one time is 250, Luton Culture said.
'Bit of a panic'
The 2,000 straw boaters were ordered in the hope of smashing that record while raising funds for the town's museum.
"We had a little bit of a panic because the order was due to arrive last weekend and then we found out that our 2,000 hats had been delayed," Ms Perkins said.
"Luckily we've managed to find a back-up supplier who has given us an initial 1,000 hats, and at the press of a button will deliver an additional 1,000 if the order doesn't materialise sometime between Friday night and Saturday morning."
The back-up plan has cost about £1,000 but Ms Perkins said there was "some flexibility... in the project-funded budget".
She said they had "excellent sponsorship" and "a very good deal with the UK company that has given us the back-up hats".
She said she hoped people taking part in the event might also make a small donation as they would be able to keep their straw boater.
Luton has a long tradition of hat-making and its football team is nicknamed The Hatters.
"A century or so ago we used to manufacture the straw hats ourselves, and some very specialist bespoke hats are still made here... but the majority of straw boaters are actually manufactured now in China," said Ms Perkins.
"Most of the hat manufacturers in the UK bring their supplies in from China and do all the finishing work here, like the ribbons, linings and all the different trims."