West Herts NHS trust admits asbestos failings put workers at risk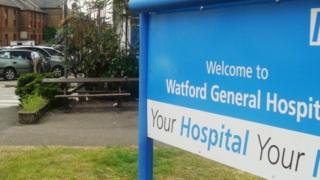 An NHS trust in charge of three hospitals put workmen at risk to exposure from asbestos for 11 years, a court has heard.
The West Herts Hospitals NHS Trust referred itself to the Health and Safety Executive when a new member of staff raised concerns about asbestos.
The trust runs hospitals in Hemel Hempstead, Watford and St Albans.
It pleaded guilty to health and safety failings at St Albans Crown Court and will be fined at a later date.
The court heard 47 staff who were involved in maintenance work at the hospitals between 2000 and 2011 had been contacted.
'Real risk'
Prosecutor Adam Payter said none of the workers had developed an asbestos-related illness, but added there was "a real risk they may contract a disease in the future."
Mr Payter said there was "considerable potential for harm to workers," and "the defendant was aware of the risks, but ignored them".
In 2006, the trust was fined £17,000 by magistrates after pleading guilty to two offences under the Health and Safety at Work Act.
Colin McCaul QC, defending, said the trust had "been candid with itself, the Health and Safety Executive, the court and public.
"The system now in operation is robust, comprehensive and easily comprehensible. All asbestos has now been removed or contained. "
Judge Stephen Gullick said he will deliver his sentence next week.