Kings Langley 'douchebag' bike thief ignores angry note from victim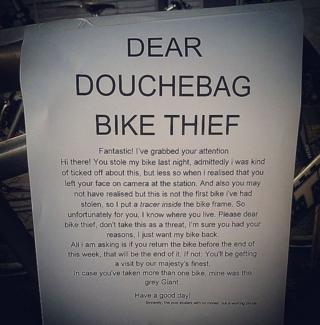 A man who left an angry note to a thief who stole his bicycle in Hertfordshire said he was "very disappointed" his words had not pricked the conscience of the "douchebag thief".
Aaron Rush, 23, who lives in west London, left the note at Kings Langley railway station after the theft.
He told the thief he was on CCTV and the bike was fitted with a tracker.
However, the tracker failed and police told him the CCTV would not come through for a month, Mr Rush said.
Mr Rush, originally from Beccles, Suffolk, commutes from his home in Kensal Green to Kings Langley where he had left his cycle double-locked overnight.
Last Wednesday, he arrived to discover the grey-coloured Giant bicycle had been stolen.
He reported it to British Transport Police but said he was not given "much hope", so decided to write a note to the thieves.
'Ticked off'
"I knew if it had been taken by professionals there was no hope of getting it back, but I thought if kids had taken it for a laugh, they might see the note, think 'fair play', and bring it back," Mr Rush said.
His letter started "Dear douchebag bike thief" and went on to say how he had been "ticked off" about the theft.
Mr Rush, who described himself as a "poor student with no money, but a working printer", fitted a GPS tracker to the cycle two years ago after suffering another theft.
"Unfortunately for you, I know where you live," he told the culprit.
"I did know where the bike was for a while - it was still somewhere in King's Langley - but then the tracker failed or was disabled over the weekend," Mr Rush said.
He said it was "very disappointing" the thieves had not returned the bike, which he said was not covered by his insurance.
British Transport Police confirmed officers were investigating the theft and the CCTV footage had been requested.