'War stopped play' cricket match at The Lee finishes despite hailstorm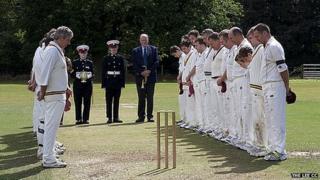 A cricket match that never finished due to the start of World War One has been completed, despite players battling hailstones "the size of marbles".
The original game between The Lee CC and Manor House in Buckinghamshire began on 3 August 1914, but was abandoned due to rain.
When war was declared players vowed to continue the game after the fighting ended, but many did not return home.
Manor House were victors in Sunday's match by 11 runs.
Thirty people in the village of The Lee died in the Great War, but it was only recently a member of the cricket club learned of the 100-year-old match.
A century ago workers at the village's manor house set up their own cricket team for a friendly match against the regular village side, but the evenly poised game was rained off during the afternoon and never finished.
'Moving day'
This time around, a Manor House XI was created from cricketers from The Lee CC who live in the village. The remainder of the team who live outside the village played for The Lee CC.
Before the match the names of all 30 men who died were read out by players and a trumpeter played the Last Post, followed by a one-minute silence.
But the tail-end of Hurricane Bertha looked to threaten proceedings altogether.
"We had thunder and lightning and hailstones the size of marbles, so we had to dash off. But in the afternoon the sun came out and it cleared up nicely and we were able to carry on," said Matt Line, chairman of The Lee CC.
"It was a very appropriate tribute to the men who died and a very emotional and moving day," he added.
The match finished with Manor House 180-6 after 35 overs, with The Lee all out for 169.