Habib Ullah death: Family anger over lack of criminal charges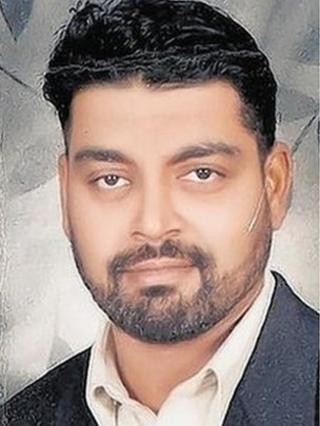 The family of a man who died following a police search have reacted with anger to the news no charges will be brought against officers over his death.
Habib Ullah, 39, collapsed during a routine stop-and-search in a High Wycombe car park in July 2008.
The Crown Prosecution Service (CPS) decided there was not enough evidence to charge the officers involved.
But the police watchdog has found a case to answer for gross misconduct against five Thames Valley officers.
The Independent Police Complaints Commission (IPCC) said they would face hearings as part of an internal disciplinary process.
It reopened its investigation into Mr Ullah's death after an inquest was abandoned in 2010.
The IPCC referred the case to the Crown Prosecution Service (CPS) earlier this year.
Relatives of Mr Ullah, who was from Slough said they were unhappy with the CPS's decision.
His sister Nasrit Mahmood said: "Not only is it my opinion that the police officers caused my brother's death, but they have not given a full and truthful account.
"How on earth can CPS disregard the facts?
"This is not justice for us and we will not give up until justice is served, and that is a promise."
Breathing problems
Mr Ullah was part of a group searched while they were sitting in a car in High Wycombe.
Officers said they believed he was hiding a package of drugs in his mouth.
During the search, he had breathing problems and later died in hospital.
The Independent Police Complaints Commission (IPCC) conducted an investigation into Mr Ullah's death, interviewing the officers involved and allowing them to submit written statements.
The officers were cleared of any wrongdoing in March 2010.
But at the inquest later that year, they admitted removing potentially key evidence from their written statements to the IPCC, claiming they were told to do so by a Police Federation lawyer.
The inquest was abandoned so the IPCC could investigate further.
'Insufficient evidence'
A CPS spokesman said possible criminal charges of manslaughter by gross negligence and misconduct in public office had been under consideration.
But it found there was "insufficient evidence" for a "realistic prospect of convicting any person of any criminal offence", the spokesman said.
"Our thoughts remain with Mr Ullah's family at this difficult time for them and we fully understand that this is not the decision they will have wanted."
An IPCC report into Mr Ullah's death has been sent to his family and a coroner ahead of the inquest being resumed with a new jury.
The findings have also been sent to the Solicitors Regulation Authority, which will consider the conduct of the Police Federation lawyer.
"This has been a complex investigation which as we have said has taken an unbearably long time for Mr Ullah's family," an IPCC spokesman said.
"I am very sorry for the prolonged distress this has caused, but it has been essential to ensure that our investigation was robust and thorough."
Thames Valley Police said it would continue to liaise closely with Mr Ullah's family, the IPCC and community representatives.