Sean Cleathero case: Man cleared over bodybuilder DNP death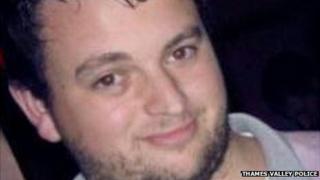 A man has been found not guilty of the manslaughter of a bodybuilder who died after drinking a toxic herbicide.
Sean Cleathero, 28, took the drug Dinitrophenol (DNP) at a gym in High Wycombe in 2012.
Jason King, 41, of Hazell Road, Great Missenden, was cleared of manslaughter but still faces a charge of perverting the course of justice.
The jury will continue deliberations on Jamie Chivers, 44, and Peter Purkins, 47, at the Old Bailey on Monday.
Both deny the charge of manslaughter.
Mr Cleathero died in Wycombe Hospital, hours after drinking the substance, on 16 October 2012, the court heard.
DNP is used to help burn fat but can have side effects such as extreme body temperatures leading to brain damage and blindness.
The judge has told the jury he will accept a majority decision on the charges still facing Mr King, Mr Chivers, of Spring Gardens Road, High Wycombe, and Mr Purkins, of Heather Walk, High Wycombe.
The jury, which began its deliberations on Tuesday, found Laura Hague, 23, guilty of removing evidence on Wednesday.