Newport Pagnell mother in pool breastfeeding rule row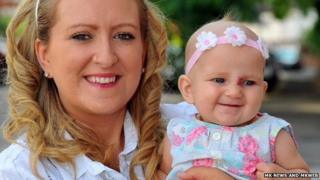 A breastfeeding mother said staff at a swimming pool told her she was breaking its "no food or drink rule".
Natasha Barnett was with three children and her five-month-old baby Olive at the pool in Newport Pagnell when staff said poolside breastfeeding was banned.
Middleton Pool manager Sean O'Connor said his staff's concerns were for "the safety of her young child who required adult supervision in the pool".
He denied there had been a change to its poolside breastfeeding policy.
Miss Barnett was at the pool with her son Dominic, four, her nine-year-old daughter Millie, one of Millie's friends and Olive on Friday, at about 13:30 BST.
She said: "I was the only adult in the baby pool, and I wouldn't let the older girls go into the big pool without me.
"I was on a bench, really close to where Dominic was sitting on the steps in the pool.
"A life guard came up and asked the children 'who's with you?', and I said, 'me, I'm the mother'."
The mother-of-four, who lives in Newport Pagnell, Buckinghamshire, said she had taken her children to the pool for years and never before been prevented from breastfeeding.
But she said was told on Friday the rules had changed the day before and "from 31 July, no one was allowed to feed, even bottle feed, on the poolside".
Miss Barnett said she phoned the pool the next day and asked for the policy to be read to her and was told there was a ban on breastfeeding in the pool.
In a statement, Mr O'Connor said: "Our actions were a sensible and practical solution for ensuring the baby could be fed, both mother and baby would be comfortable and the slightly older child remained safe under mum's supervision."
Places for People Leisure, which runs Middleton Pool, issued a statement saying it "is fully supportive of breastfeeding within our facilities, including at the poolside" and the only place from which it was banned was in the pool.