Mourners told to move Sandy Cemetery grave trinkets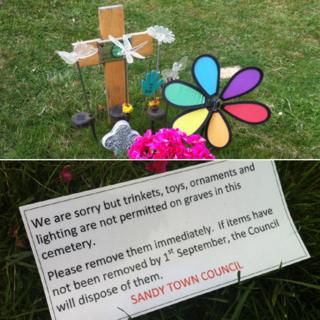 Mourners have been told to remove items from graves in a Bedfordshire cemetery or a council will do it for them.
Laminated notices were put on graves in Sandy Cemetery by the town council, saying banned "trinkets and toys" must be removed by 1 September.
A spokesman said it "regretted any upset caused", but the items were "not allowed" and could present "a hazard" to maintenance staff and grass cutters.
Melanie Carter said the note on her 14-year-old son's grave was "disgusting".
Mrs Carter and her husband put solar-powered ornaments, a large plastic flower and a small engraved stone cross by her son Billy's wooden cross headstone.
"It costs a lot of money to buy a plot so we should be able to put what we want on them," she said.
Another woman who has relatives buried in the cemetery said she had removed items from their graves after the council had requested it in the past, but added: "I'm going to put it back now.
"Lights, the whole lot, I don't care."
In a statement, Sandy Town Council said: "The cemetery is governed by a set of burial regulations which are provided to all those who choose to use the cemetery for interments.
"The regulations prohibit the placing of solar lights, toys, trinkets or any other items on graves with the exception of flowers."
Town mayor Will Jackson said: "We recognise this is a sensitive issue and regret any upset caused, but our regulations are very clear and we make every effort to ensure that funeral directors and families are well aware of them from the outset."