Watford allotment legal case: Plot holders take vegetables to High Court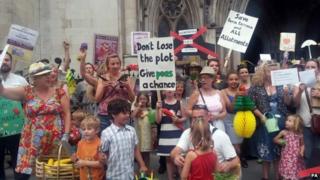 About 100 protesters took vegetables to the High Court ahead of a legal challenge described as "a litmus test" to protect all allotments.
The Save Farm Terrace Allotment group is challenging a government decision to allow Watford Borough Council to build on the 118-year-old plots.
Campaigners say the decision was "legally-flawed" and the 128 plots could be incorporated in the plan.
Government lawyers say the decision is "legal and fair".
Men, women and children carrying boxes of home-grown fruit, vegetables and flowers gathered outside the law courts.
One placard read: "Save Farm Terrace and all allotments."
Sean Mills, 34, who was demonstrating with wife Penny, 33, and their four-year-old twins, Bethany and Ruby, said he lived opposite the allotments.
He said: "We all love growing stuff. We just want to keep our land and go on doing it."
Under the Allotments Act 1925, councils require consent from the communities secretary to develop statutorily-protected allotment land.
Lawyers in the case have said this is the first time the courts have been asked to rule on the government's policy for dealing with such requests.
Jason Coppel QC, representing the allotment holders, said it was "a litmus test for the protection of allotments" as it was the first time the courts had been asked to rule on the government's policy.
There are plans for 750 homes and commercial buildings in a proposed £250m development on the 30-hectare site behind Watford Football Club.
The allotment group won an appeal against the council's first plan last August, when Communities Secretary Eric Pickles reversed his original decision to grant permission to close the allotments.
This was overturned in December, when he accepted a revised scheme, but a high court judge said campaigners could challenge this decision.
Government lawyers say the judgement remained lawful and fair despite developments that post-dated his decision.
The case continues.