Teenager who drowned in River Thames named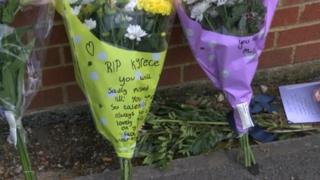 A "fun-loving" boy is thought to have drowned in the River Thames while trying to retrieve a ball, it has emerged.
Kyrece Marshall, also known as Kyrece Francis, 13, was swept into deep water near Gossmore Lane, Marlow in Buckinghamshire, on Tuesday.
He was found by police divers just after 20:00, officers said.
Friends who gathered at Great Marlow School to pay tribute called him "charming, friendly and sociable".
One described him as a "really nice chap" who "always had a smile on his face", while another called him a "fun loving guy".
A Thames Valley Police spokesman warned of "unseen hazards" in the river, especially following the floods earlier this year.
Neighbourhood inspector Scott Messenger said: "There are a lot of currents and a lot of debris that has been moved along the river so they can be very dangerous places."