Luton love rival Atif Ali 'was warned of attack'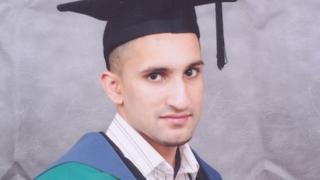 A man shot in an alleged plot by a love rival to kill him was warned he would be attacked days before the shooting, a jury has heard.
Atif Ali, 28, told Luton Crown Court he went to police about the threats by Shahzad Mahroof, 28, one of six men accused of planning to murder him.
Mr Mahroof had wanted a relationship with Mr Ali's fiancée Nazeem Dadd, it is alleged.
All six have denied conspiracy to murder.
'Intent on relationship'
The court was earlier told that at the time of the shooting, Mr Ali, of Luton, was engaged to Miss Dadd, with whom Mr Mahroof was "intent on pursuing a relationship".
Mr Mahroof bought a car which was deliberately crashed into Mr Ali's silver Audi at the junction of Leicester Road and Dunstable Road in May last year, it is alleged.
The victim was shot in his left thigh at close range when he got out to inspect the damage.
Mr Ali told the court that a week before the shooting he was in his car with Miss Dadd when a man he thought was Mr Mahroof kicked and punched the car and threatened him, saying, "I will kill you, I am going to get you shot".
Two men also came to his home in November 2012 and said he would be "visited by serious people and get seriously hurt", Mr Ali said.
'Smash legs'
He denied defence barrister Imran Khan's claim that in January 2012 he had approached a local "heavy" to smash Mr Mahroof's legs for £10,000.
Mr Kahn argued Mr Ali "hated" the defendant because Mr Mahroof and Miss Dadd had been in a "boyfriend-girlfriend relationship" and were in love.
He told the court that by November 2012 Mr Ali had spent 18 months trying to "woo" Miss Dadd, only to be told she was going back to Mr Mahroof.
Mr Mahroof, of Selbourne Road, Luton, and Bernard Pillay, 41, of Campion Close, Uxbridge, who was allegedly the gunman, have admitted conspiracy to commit grievous bodily harm.
Matthew McCafferty, 23, of Roman Way, Flitwick; Mark O'Neil, 41, of Lansbury Drive, Hayes; Mahmood Baig, 31, of Overstone Road, Luton and Sajad Hussain, 31, of Portland Road in the town have denied the charge.
The trial continues.