Council spent almost £6m on Barnfield incinerator fight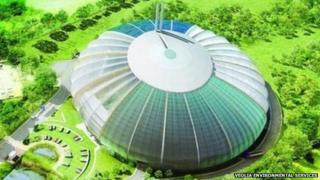 A county council spent almost £6m trying to get plans for an incinerator in Hertfordshire approved, it has revealed.
The £1bn energy-from-waste plant proposed for green-belt land at New Barnfield was judged "inappropriate" by the government last week.
The council said a project of this size "doesn't come without cost".
Hatfield Against Incineration said protesters were "shocked" at the figure.
Spokeswoman Cathy Roe said: "I knew they were spending a great deal but didn't know it was this kind of money.
"If they had researched the site better they would never have done this - but I think they thought Hatfield wouldn't fight back."
Hertfordshire County Council agreed the plans from Veolia in October 2012 but the decision was called in by the Department for Communities and Local Government (DCLG).
A public inquiry was held last September.
Making his judgement, Communities Secretary Eric Pickles said the benefits did not outweigh the potential harm to the green-belt.
The council said procurement costs, including finance, legal and technical fees, totalled £5.45m, while the planning process cost £460,000, including £400,000 for the inquiry.
Councillor Terry Douris, who is responsible for waste management, said the plant would have processed 380,000 tonnes of waste a year, saving taxpayers £667m over the 25-year contract.
"We believed and continue to believe that this was the right facility at the right site," he said.
"While some of the money spent may be aborted, we are still in contract with Veolia and we still have options available."
Welwyn Hatfield Borough Council spent £190,000 fighting its own county council's plans including £20,000 for the protesters' campaign.
Council leader John Dean said it was "worth every penny" and it would now work with its county colleagues to look at other ways of managing waste.