Luton 'car crash' was plan to kill love rival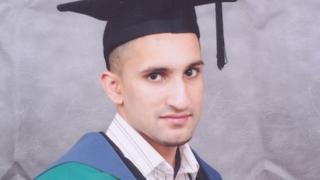 A Luton man was behind a plot to have his love rival murdered so he could have a relationship with the man's fiancée, a jury has heard.
Shahzad Mahroof, 28, of Selbourne Road, is one of six men accused of planning to murder Atif Ali, 28, as he drove to work in May last year.
A car was crashed into Mr Ali's silver Audi and he was shot when he got out to inspect the damage, it is alleged.
All six have pleaded not guilty to conspiracy to murder.
Mr Mahroof and Bernard Pillay, 41, of Campion Close, Uxbridge, who was allegedly the gunman, have pleaded guilty to conspiracy to commit grievous bodily harm.
Matthew McCafferty, 23, of Roman Way, Flitwick; Mark O'Neil, 41, of Lansbury Drive, Hayes; Mahmood Baig, 31, of Overstone Road, Luton and Sajad Hussain, 31, of Portland Road in the town have denied the charge.
'Deliberately crashed'
Luton Crown Court was told Mr Mahroof bought a Ford Mondeo which was deliberately crashed into Mr Ali's car at the junction with Leicester Road and Dunstable Road at about 08:00 BST on 20 May.
Mr Ali was shot in his left thigh at close range and suffered life threatening injuries.
Prosecutor Stuart Trimmer QC said Mr Ali was engaged to Nazzeem Dadd, whom Mr Mahroof was "intent on pursuing a relationship" with, but could not get approval from her or her family, the court was told.
In the months leading up to the attack Mr Mahroof, who was nicknamed Billy, attempted to warn off his rival by trying to frighten him.
In 2012, Mr Ali was visited at home by a number of men and told "in no uncertain terms to stop messing with Billy's girl", the jury heard.
Mr Trimmer said: "If he did not, he was told he would be visited by serious people and would get seriously hurt."
When the threats failed, arrangements were made for Mr Ali to be murdered.
The trial continues.