Luton's inner ring road completed after 40-year wait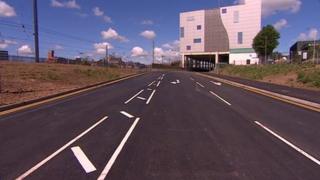 A £24m scheme to complete Luton's inner ring road after a 40-year wait has been officially opened by the transport minister.
The new link road runs from the junction of Old Bedford Road and Hucklesby Way to St Mary's roundabout.
Baroness Kramer, who performed the ceremony, said it had been an "astonishing amount of time to wait".
But if it had been designed in the 1970s it may have "destroyed the life of the town centre", she added.
Luton's inner ring road was started in the 1970s but only the southern section, including part of the A505, was completed.
Hucklesby Way, which runs from the A6 to Old Bedford Road was opened in 2003, when a study recommended a further section to complete the circle.
'Sea-change'
The council said it had needed a £16m grant from the government which it only got after "many, many tries".
Councillor Dave Taylor said: "If you keep knocking on the door it's going to open."
Baroness Kramer said: "Forty years ago it would probably have been a scheme that sliced through the town.
"With modern approaches to town planning, this is going to support the town centre, it supports a lot of the other developments making it so much more attractive."
She said there had also been an "absolute sea-change" in the government's attitude to infrastructure.
"We neglected it for at least two or three generations - we now recognise it supports the economy, supports jobs and keeps towns alive," she said.
A phased opening of the road to traffic will take place over the school summer holidays.