Barnfield incinerator project rejected by secretary of state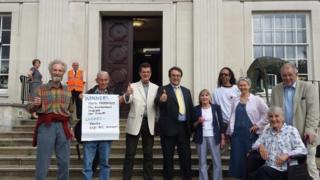 A £1bn incinerator that would have processed 380,000 tonnes of waste a year has been rejected by the government.
The plant proposed for green belt land at New Barnfield plant was judged "inappropriate" by Communities Secretary Eric Pickles.
He said development within the green belt would not be allowed without "very special circumstances".
Welwyn Hatfield Tory MP Grant Shapps said: "We've won the battle."
The judgement by Mr Pickles said the benefits of the development did not outweigh the potential harm to the green belt.
'Protect heritage'
"The decision took account of planning policy, and the planning inspector's detailed findings including a public inquiry," he said.
"The National Planning Policy Framework is clear that inappropriate developments in the green belt should not be allowed.
"The decision also took into account the proximity of Hatfield House, a Grade I listed building, and the effects the proposal could have on heritage protection."
'People-powered'
Mr Shapps said the incinerator design was old-fashioned outdated technology.
"There are now more modern ways of dealing with waste, including anaerobic digestion, which can provide a far better, more local, solution," he said.
"My heartfelt thanks go out to all who gave so much time, money and effort to achieve this fantastic people-powered victory."
Sandy Walkington, Lib Dem environment spokesman on the council, said: "It was a David v Goliath battle and it's hats off to Hertfordshire residents for fighting this."
Terry Douris, cabinet member for waste management on Conservative-controlled Hertfordshire County Council, was disappointed.
"We urgently need an efficient and cost-effective way of dealing with residual waste that will help us divert the maximum possible amount away from landfill," he said.
"Building this recycling and energy recovery facility would save residents an estimated £667m over 25 years.
"Doing nothing simply isn't an option."