Lorry 'wedged' in Watton-at-Stone road junction for hours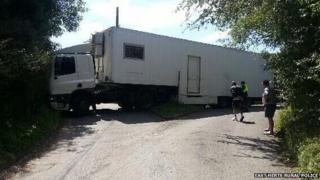 An articulated lorry blocked a road when it became "wedged" between a building and a junction after its driver followed sat-nav directions.
The vehicle became "very stuck" on Church Lane in Watton-at-Stone, Hertfordshire, said police.
The driver told officers his sat-nav had directed him down the narrow lane on Friday and the lorry became stuck as his tried to turn it around.
The road was closed for two hours while the vehicle was recovered.
East Hertfordshire Police tweeted: "Sat Navs are amazing pieces of technology. Don't always trust them."