Two children hurt in Woburn Safari Park coach crash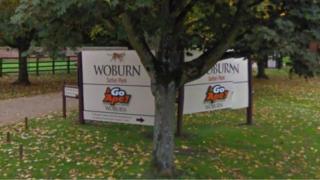 Two children have been taken to hospital after a coach struck a building at a Bedfordshire safari park.
A girl with a neck injury and a boy with a cut to his head were taken to Milton Keynes Hospital after the crash at Woburn Safari Park.
Paramedic officer Geri Arthur said: "It was chaos when we first arrived, the coach windows were smashed and the children were crying and screaming."
About 45 children, aged six and seven, were on the coach.
Ambulance crews were called at 15.19 BST and other children were treated at the scene.
Two ambulances, a rapid response car and two paramedic officers were sent to the park which is near J13 on the M1.