Bedford Hospital apology over Luca Downie death 'failings'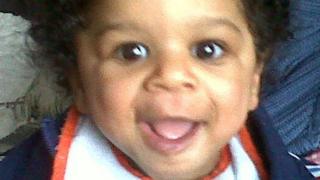 A hospital has apologised after a mother said concerns about her 10-month-old baby were ignored before his death.
Senior coroner Thomas Osborne criticised "unacceptable" failings in the care given to Luca Downie at Bedford Hospital.
He said there had been a "failure to recognise the serious nature" of Luca's heart condition throughout his life.
Lisa Fregapane, Luca's mother, said she had "battled" with staff to get help.
"I was not being listened to and no-one was looking after Luca," she said.
"I battled with hospital staff to get assistance."
The hospital trust apologised and said it had since made "substantial improvements".
Chief executive Stephen Conroy said the hospital had "deep regret" for the missed opportunities and "apologised unreservedly".
"Whilst an earlier diagnosis would most probably not have altered the outcome, these failures... resulted in a lost opportunity to support him and his family through the last weeks and months of his life," he said.
Mr Osborne recorded a narrative verdict but said improvements had been made at Bedford Hospital as a "direct result".
He said Luca's condition was unlikely to have been treatable but there had been "serious failings" with junior staff feeling "unsupported and out of their depth".
"This is totally unacceptable in this day and age," said the senior coroner, sitting in Ampthill.
"Throughout [Luca's] life there was a failure to recognise the serious nature of his illness that resulted in a number of lost opportunities to render medical treatment."
Luca died on 14 April last year from the rare heart abnormality.
The inquest heard he was first admitted to A&E at 10 days old and four times during 2012 a heart murmur was detected but no action taken.
Following an echo-cardiogram in January 2013 Luca was referred to Great Ormond Street but due to a "system failure" this was not acted upon.
Junior medical trainees were withdrawn from the paediatric department from 31 July by Health Education East of England and the General Medical Council and children's A&E was suspended.
The emergency service returned in January and trainee doctors will return to the hospital in August.