Harry Potter's Leavesden Warner Bros studios expanding its site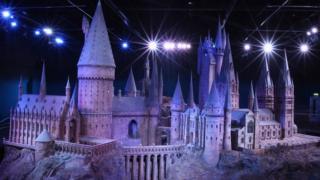 The Hertfordshire film studios where the Harry Potter films were made is expanding its site.
Warner Bros has started building three new sound stages at the site at Leavesden, near Watford.
The studios are currently home to the new Tarzan film, starring Margot Robbie and Samuel L Jackson, which started production work this week.
They were used for filming Edge of Tomorrow with Tom Cruise and are also home to the Harry Potter Studio Tour.
Kevin Tsujihara, chairman and CEO of Warner Bros, said: "Warner Bros has produced some of our most popular and successful films in the UK, working with British talent.
"The expansion of Warner Bros Studios Leavesden will allow us to further tap into the world-class creativity and innovation available here to continue this tradition of filmmaking excellence."
Culture Secretary Sajid Javid said: "For years the UK has been at the cutting edge of the creative industries - and we want that to be the case for decades to come. This comes back to two things - and the two things that I see being as the most important in my job.
"One: Promoting our culture. Music, film and television help inspire young kids and bring our country together - so I will always back those industries. And two: Our long-term economic plan."
Warner Bros president Josh Berger said the announcement confirmed its "commitment to the UK creative industries".