Watford town centre's revamped pond branded 'cesspit'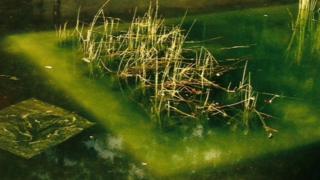 A refurbished pond in Watford town centre has been branded a "cesspit" just days after it was officially opened by TV presenter Mary Portas.
Residents complained when the water in the feature, which is the centre piece of a £4.3m makeover of The Parade, turned green.
The council blamed "short-term teething problems" with the water filtration.
The Friends of Watford Pond said the council should have foreseen the problem.
The refurbished town centre was opened by Ms Portas on 20 June but the pond has since been criticised on social media with Neal Emery tweeting "still no pumps working at the cesspit pond".
Other comments on Twitter included Toby Harper saying "nice to see the pond has gone green again already".
'Decoration and show'
Friends spokesman Steve Dilks said the council had been in a rush to complete it before Ms Portas visited, so certain things "may have been overlooked".
"The teething problems are the same as the problems they had before this pond was actually restructured," he said.
"We know what's best but they don't know the groundwork, they don't know the structure, they don't know the pipes, the problems with the water, the plants that are in there - it was all about decoration and show. "
Watford Borough Council said it was "sorry the pond has not been looking as intended".
A spokesman said there was a fault with the filtration system and it was working to rectify the problem.
"In the meantime, we are emptying and refilling the pond and hope to have it looking as we intended as soon as possible," he said.
"Residents will see a vast improvement in the appearance of the water."
There are no fish in the pond and they will only be returned once the filtration system is fully operational, he added.