Two cleared of Milton Keynes drugs feud murders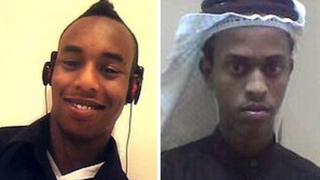 Two men have been cleared of a double murder in Milton Keynes.
Dutch citizen Brahim Hajji, 26, and Ahmed Ahmed, 20, were found not guilty of killing Mohammed Abdi Farah, 19 and his friend Amin Ahmed Ismail, 18.
The victims, Somalis, were killed in an "execution" style shooting to the head in an alley off Fishermead Boulevard on the Fishermead estate three years ago.
Luton Crown Court heard the motive for the murders was "rivalry" over the trade in drugs.
Ismail was witness
Prosecutor Jonathan Price QC said Mr Farah was murdered because of the feud and Mr Ismail was then shot as he had been a witness.
Mr Farah died instantly, but Mr Ismail did not die until the following day in Milton Keynes Hospital.
During the trial's opening, the jury saw CCTV images of the accused men near the alley on the night of the shootings.
The court was told police found the murder weapons in bushes close to the scene weeks later.
The two defendants had denied both the murders. The jury spent more than 14 hours deliberating the verdicts.
In January 2013, two other men were convicted of the murders.