Badminton England's £20m Milton Keynes plan in doubt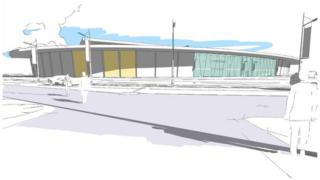 Badminton England's plans for a £20m headquarters at the Milton Keynes Bowl are under threat due to a funding shortfall, the BBC has learned.
Planning permission for a complex including 17 courts, a 3,000-seat arena, fitness club and athlete accommodation was granted last year.
Funding depended on the sale of land at its existing centre in Bradwell Road.
"Legal issues" have delayed this deal and plans may now be downgraded, Badminton England said.
The new HQ at the Bowl, due to be completed by spring 2015, was to be part of a £26m indoor water park and sports village development.
Badminton England's chief executive Adrian Christy said the 17-court arena depended on the full value of their existing site being realised.
But the plans are linked to a 102-home development there which has been opposed by Loughton Parish Council because of the effect it would have on nearby Lodge Lake.
'Jeopardise' project
"If [the full value] isn't forthcoming then it would jeopardise what we could build and whether we could build it at all, and that is the position we are in right now," said Mr Christy.
He added said the organisation was hoping to be awarded grants but would have to scale down its plans to a 12-court arena.
Milton Keynes Council leader Peter Marland said Badminton England was "quite a bit more than £2m short" and downgrading the plans would put the whole project in doubt.
Plans for a smaller facility would need planning permission, and it was uncertain this would be granted, he said.
A council spokesman said it was "committed to working with Badminton England on their plans".
If the scheme is unable to go ahead, Badminton England may consider a smaller facility at the Milton Keynes Leisure Plaza.