Lewis Hamilton's Stevenage v Nico Rosberg's Monaco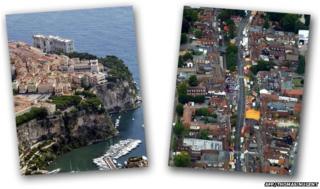 Monaco versus Stevenage. Its an unlikely duel. But racing driver Lewis Hamilton believes the differences between his home town and the home of his Mercedes world title rival Nico Rosberg could decide this year's driver's championship.
Hamilton claims he is "hungrier" for the Formula 1 drivers' title because he heralds from "a not great place in Stevenage" and lived "on a couch" in his father's apartment.
"Nico grew up in Monaco with jets and boats and all these kind of things - so the hunger is different," claims Hamilton.
But just how different are Monaco and Stevenage, and are there any areas in which the Hertfordshire town tops its Mediterranean rival?
Size
A designated new town under the New Towns Act of 1946, Stevenage has grown from a population of just a few thousand at the start of the 20th Century to more than 80,000 at the most recent count.
This is far more than the sovereign city state of Monaco, the second smallest country in the world after Vatican City, which boasts just 37,000 residents.
At just over 10 sq miles (25 sq km) Stevenage is also physically far larger than Monaco, which takes just 0.76 sq miles (1.98 sq km) of land on the French Riviera.
"We've got more space to breathe here in Stevenage," says Howard Burrell, Stevenage Borough Council's executive member for children and young people, culture, sport and leisure. "We've got a lot of parks - it is remarkable how much open space there is here."
But while Stevenage has the upper hand in terms of size, the Monagasques win hands down when it comes to average salary packets.
Monaco residents take home just shy of £100,000 ($163,000), four times more than the £23,000 ($38,000) average Stevenage salary.
Royalty
The constitutional monarchy of Monaco is currently ruled by Prince Albert II who last week confirmed he and his wife, the South African Princess Charlene, were expecting. The new baby will replace Princess Caroline - Prince Albert's older sister - as heir to the throne.
Prince Albert II, the latest in the house of Grimaldi which has ruled over Monaco since 1297, is the son of the late Prince Rainier III and Hollywood actress Grace Kelly.
Stevenage's royal claims are more modest.
Its market and fair gained a Royal Charter from Edward I in 1281. Other than that, Stevenage has the Royal Pizza Takeaway, the Royal Oak pub, Bowes Lyon House Youth Centre (Bowes Lyon being the family name of the late Queen Elizabeth The Queen Mother, whose childhood home was near Hitchin) and a branch of the Royal Aeronautical Society.
Boats
Yes, Monaco has its yachts.
But Stevenage has Fairlands Valley Park and Sailing Centre.
Its sailing lake is used for dinghy sailing, kayaking, windsurfing and power boating courses.
"The centre offers a wide range of outdoor activities for the people of all ages of Stevenage and outlying areas," says Jonathan Stone, corporate services director at Stevenage Leisure, which runs the centre. The adjoining 120 acre park, he said, is used by mountain bikers, rope climbers and power kiters.
Education
No doubt, the International University of Monaco is a highly regarded business school. But if you want to study something other than finance, marketing, sport business management or business, you will have to look somewhere else.
Stevenage's nearest university - the University of Hertfordshire - offers a full mix of courses including law, computer sciences, creative arts, humanities, engineering and more.
Based 11 miles from Stevenage, Hertfordshire was rated the 60th best university in the world among those under 50-years-old in the Times Higher Education World University rankings.
Monaco did not make it on to the list.
Hertfordshire is also 'more international' with 85 countries represented in its staff and student body compared with Monaco's 60 nations.
"Hertfordshire is a top drawer university," says Mr Burrell.
More than that though, the Hatfield-based university also has close links to the motor racing industry. It has a team which competes in "Formula Student", a motorsport competition run by the Institution of Mechanical Engineers. The Hertfordshire team is ranked top in the UK and 29th out of 500 international squads.
Dr Howard Ash said: "Year on year our graduates are employed by some of the top Formula One teams in the world and I believe the next generation of automotive engineers is right here in Hertfordshire."
House prices
You get a lot more for your money in Stevenage than you will in Monaco.
The average house price (Oct 2013) in Stevenage is £182,000, with a flat costing an average of £103,000 and a detached home going for £323,000.
That £100,000 you could spend on a flat in Stevenage might only get you 2m sq of floor space in Monaco (2012 figures). Enough to sit or lay down on, perhaps, but not much else.
One-bedroom properties in the principality cost between £974,000 and £3.25m. Those wanting a four bedroom property can expect to part with between £5.3m and £16.2m. The most expensive parts of Monaco include the Casino Square, The Golden Triangle and areas close to the beaches.
Estate agents in Stevenage were unable to offer up a property with an asking price of £16m.
"For the cost of a one-bedroom property in Monaco," says Mr Burrell, "you could buy several homes in Stevenage.
"You definitely get more for your money. The housing here is very good and there's a whole range of it."
Events
The Monaco Grand Prix is a staple feature of the F1 calendar.
The 78-lap race around the Circuit de Monaco first took place in 1950. This year the crown was claimed by Nico Rosberg, with Lewis Hamilton beaten into second place.
But the Grand Prix is a once-a-year thing.
Stevenage's best known venue - Knebworth House - hosts events around the year.
It is known across the world for its music concerts and this year is marking its 40th anniversary as a rock venue. In those years, Knebworth has seen the likes of the Beach Boys, Queen, Genesis, Robbie Williams, Pink Floyd and Oasis perform for hundreds of thousands of fans.
This year, Knebworth will host the Sonisphere Festival headlined by Iron Maiden, Metallica and The Prodigy, motor shows, the Knebworth Country Show and open air sculpture.
"We are very well catered for here. There's a lot of fun to be had," says Mr Burrell, who in 1963 drove from Manchester to Monaco with a 6ft 3in (1.9m) friend in a yellow Mini. "And it is year-round rather than once a year."
Having visited Monaco though, is there nothing Mr Burrell would take from Monaco?
"Well yes, perhaps the weather and the seaside. They are marvellous in Monaco."