Gas power station plan for Stewartby incinerator site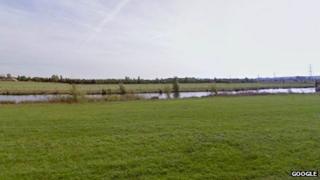 A £200m gas-fired power station has been proposed for former industrial land in Bedfordshire where a planned incinerator was never built.
Millbrook Power Ltd said it was due to make a planning application in early 2015 for a new plant at Rookery Pit.
A proposed energy-from-waste facility was not built there after its American developers pulled out of the UK.
Rookery South Pit is a brownfield site near the villages of Marston Moretaine, Stewartby, Millbrook and Lidlington.
The former clay pit, used for the nearby and now redundant Stewartby Brickworks, has been allocated for development by Central Bedfordshire Council.
'Minimum disturbance'
A Millbrook spokesman said the facility would use gas from the National Gas Transmission System to produce electricity.
It would provide back-up to renewable resources like wind and solar power and run no more than 1,500 hours per year.
Director Chris McKerrow said: "We will do our very best to ensure that our project will cause the minimum disturbance locally, both during its construction and its operation."
Consultations and exhibitions will be held before an application for a Development Consent Order will be made to the Planning Inspectorate.
A final decision will be made by the Secretary of State for Energy and Climate Change.
It could begin operating in 2019/20.
Permission to develop an energy-from-waste incinerator on the site was granted to Covanta Energy by parliament in 2012 but not built after the US company put its UK interests up for sale.
Millbrook Power, which is owned by Watt Power, said neither had any connection with Covanta.