Luton drive-by shooting: Three men jailed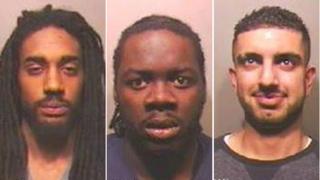 Three men from Luton have been jailed over a "drugs war" in which a motorcyclist fired shots at a car.
Two men were in BMW in Fountains Road, Luton, last May when it came under fire by Khadeem Newell, 22.
He was jailed for life at Luton Crown Court for attempted murder and conspiracy to murder.
Rene Lawrence, 24, was jailed for life for three counts of conspiracy to murder and Zeeshan Khan, 23, was given three years for assisting an offender.
Judge Michael Kay QC said: "The full story about this shooting has not been disclosed in this court room.
"The shooting related to drug wars between rival gangs."
The trial had heard Newell was "hired to kill" two men he had no connection with - Sajjid Hussain and Omar Ali.
Mr Hussain and Mr Ali were colleagues at a tyre depot but had also been involved in debt collection work.
A gun was pointed at the rear near side window and a bullet passed through the car and left through the rear off-side window.
No-one was injured.
Newell, of Jasmine Road, left his helmet and one trainer behind, which were later found to contain his DNA and fingerprints.
He was also convicted of possession of a firearm with intent to endanger life and must serve a minimum of 15 years.
Lawrence, of Littlefield Road, Luton, was a "fixer" who hired Newell, the court heard.
He must serve at least 11 years.
His convictions relate to the shooting in Fountains Road and two previous shootings - at Mr Ali's home in St Michael's Road on 24 April and at Tudor Road a week later, when Mr Hussain was shot in the leg.
Zeeshan Khan, of Connaught Road, helped Newell escape the scene at Fountains Road.
He was acquitted of two charges of conspiracy to murder.
Mohammed Khan, 29 of St Ethelbert Avenue, Luton, was acquitted of two counts of conspiracy to murder and assisting an offender.