Hemel Hempstead hole: Work to take "three more months"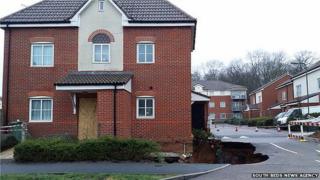 Residents made homeless nearly four months ago when a large hole appeared in a Hemel Hempstead street have been told it could be three more months before they can return.
The hole, about 35ft (9m) wide and 20ft (6m) deep, opened up in Oatridge Gardens on 15 February.
A housing association said remedial work to strengthen the ground had taken "longer than expected".
Residents said it was "nice to have a bit of honesty".
Six days after the hole appeared it was filled with foamed concrete and investigation shafts were drilled around the estate to discover the size of the problem.
The Hightown Praetorian and Churches Housing Association (HPCHA) said that of the 48 houses on the estate, 15 households were living in their homes.
Fourteen are in rented accommodation organised by HPCHA and the insurer's loss adjuster and four are staying with families and friends.
The association said it was working with the remaining 15 households still in hotel accommodation to find more suitable temporary accommodation, if they wanted it.
'May vary'
A spokeswoman said it had been difficult for the contractor to estimate the timescale for completion of the works.
"Hightown has advised [residents] it could be up to three months before the utilities are restored," she said.
"This is being stated in good faith but may vary."
David Ketley, who has been living in a hotel, said residents kept being given dates to move back but those deadlines were not being met.
"The news [about three months] is not great - I think it was expected given all the issues they have had but it was nice to have a bit of honesty," he said.
Preliminary investigations by an engineering geologist have shown the hole was probably caused by mining in the area a century ago.