Arla Buckinghamshire giant dairy opens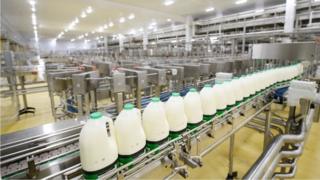 A giant dairy that cost £150m to build and can produce 1.5 million bottles of fresh milk a day has opened in Buckinghamshire.
The Arla dairy at Aylesbury was officially opened by Agriculture Secretary Owen Paterson.
The 70 acre (24 hectare) site processes only British milk and aims to supply 10% of the milk needed in England.
Residents opposed the development fearing that existing roads would not be able to cope with the extra traffic.
'Most efficient'
Arla closed the Ashby de la Zouch factory where 370 people were employed to transfer processing to the new plant.
The company said the new plant was "the most technologically advanced and efficient of its kind".
"It has the potential to process up to 240,000 litres of milk per hour and one billion litres a year, supplied by around 900 British farmers," the firm said in a statement.
Arla is jointly owned by farmers in Britain, Denmark, Germany and Sweden.
Mr Paterson said: "Britain's dairy industry contributes £3.7bn to our economy and Arla's new facility is powering economic growth by creating 700 regional jobs, including 90 apprenticeships."
David Christensen, a farmer owner and an Arla board representative, said: "As an owner of Arla this gives me the confidence to invest in my own business, knowing that the demand for my milk will be on-going."