Luton Muslim school criticises Ofsted over 'extremism' claims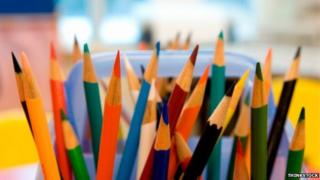 An independent Muslim school in Luton claims it is being portrayed as a "hotbed of extremism" by education inspectors.
Olive Tree Primary School, in Bury Park Road, said a draft Ofsted inspection report criticised it for promoting fundamentalist Islamic beliefs.
Chair of governors Farasat Latif said: "Nothing could be further from the truth."
Ofsted said its final report would be published shortly.
A spokesman said: "We have shared a draft copy of the inspection report, in confidence, with the school for factual accuracy checking, as is our standard practice."
The school's inspection was abandoned last week after children were questioned on their attitude to homosexuality.
'Half-baked' report
Mr Latif confirmed to the BBC the school received a draft report this week, which criticised it for promoting Salafi fundamentalist beliefs and rated it as inadequate.
Inspectors, it is claimed, also said some library books were "abhorrent to British society".
In a statement entitled "Ofsted's Revenge", Mr Latif said the school had been "targeted", with inspectors looking for "absolutely anything, that could tarnish our reputation as a Muslim school".
"They produced a half-baked, highly politicised report, replete with factual inaccuracies and based upon an inspection that was abandoned halfway through," he said.
"Ofsted is now punishing the school by portraying it as a hotbed of extremism."
He said it had regular visits from non-Muslim faith leaders and the library had a "selection of books on all faiths", as well as various children's fiction and non-fiction.
The school has written to Ofsted to counter the claims.
The Department for Education (DfE) said it takes action if there are any concerns that a school is not meeting the independent schools standards.
A spokesman said: "It would be inappropriate to comment on individual inspections until Ofsted has published its findings."