Lightning starts fire at Houghton Regis sheltered home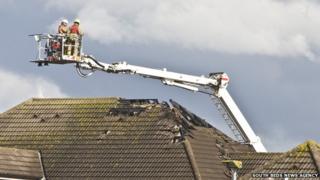 Lightning has caused a fire in the roof of a sheltered housing facility in Bedfordshire.
Residents of Red House Court, in Houghton Regis, were temporarily evacuated following the strike at about 16:00 BST.
Crews from Bedfordshire and Luton Fire and Rescue Service attended the home on The Green and the fire was out by 17:00.
Nobody was injured by the lightning strike or fire.