Hemel Hempstead 40th anniversary couple die hours apart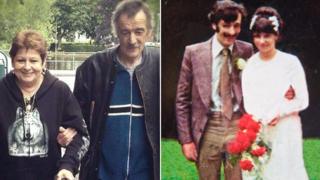 A couple who were a week away from celebrating their 40th wedding anniversary have died hours apart.
Kevin and Christine Shearson, both 64, from Hemel Hempstead in Hertfordshire, both died on Sunday at Stoke Mandeville Hospital in Aylesbury, Buckinghamshire.
Mr Shearson had multiple sclerosis. Mrs Shearson had been admitted to the hospital with a severe chest infection.
The couple, who met in 1971, will be placed in the same casket for cremation.
It is the first time West Hertfordshire Crematorium has held a service for a married couple in a shared coffin.
That is usually only done for mothers and their children or for twins.
Mr and Mrs Shearson first met while working for a stapling machine factory. They had four children and 10 grandchildren.
Their eldest daughter Kelly Shearson-Lewis, 38, said: "The only comfort we have is that they went together - they wouldn't have been able to suffer each other's funerals.
"They absolutely lived for each other and loved each other so much.
"It is so important to us they are cremated together because they were never without each other - they will be together again now."