Luton boy, 16, filmed beating animals banned for life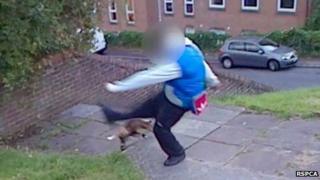 A teenager who had footage on his phone of him kicking a cat in the face and repeatedly beating a dog has been banned from keeping animals for life.
The 16-year-old, who cannot be named because of his age, attacked the cat in a Luton street and pinned down and punched a Staffordshire bull terrier.
Luton magistrates heard the cat video had been named LOL, or laugh out loud.
He admitted two charges of causing unnecessary suffering and was given an 18-month youth rehabilitation order.
Police found the footage showing Tyler the dog and an unknown tortoiseshell cat while investigating another matter, the RSPCA said.
It showed the boy, who is from the east of Luton, "callously" pinning the dog down in a chair then repeatedly punching her in the face and chest with "brutal force."
'Physically ill'
"He can then be seen yanking her down and holding her by the neck so he can kick and knee her several times more," the RSPCA said.
In other footage, believed to have been filmed in April last year, the teenager was seen "forcefully kicking the cat in the face".
RSPCA inspector Stephanie Law said she felt "physically ill" watching the distressing footage.
"What makes it even worse is that he seems to have seen this gratuitous violence as some form of entertainment," she said.
The cat was not traced but the RSPCA said a vet thought it would have suffered extreme distress, bruising and soft tissue trauma and possibly physical trauma to the pelvis and bladder.
The dog would also have suffered extreme distress, bruising and soft tissue trauma, but also possible damage to ribs, eyes, facial nerves, and the trachea, according to a vet.
Tyler was seen by the RSPCA months after the footage, believed to be from September 2013, came to light. She has now made a good recovery, the charity said.