Milton Keynes' murders due to drug trade 'rivalry'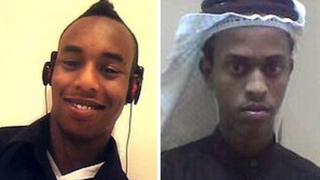 Two teenagers were shot dead as a result of illegal drug trade "rivalry", a court has heard.
Mohammed Abdi Farah, 19, and his friend Amin Ahmed Ismail, 18, were killed in the Fishermead Estate on 26 May 2011.
Luton Crown Court was told Mr Farah had been seen giving two bags of cannabis to a man shortly before the shootings.
Dutch citizen Brahim Hajji, 26, who lives in Holland, and Ahmed Ahmed, 20, of no fixed address, have both pleaded not guilty to the two murders.
The court heard the drugs handover was witnessed by Mr Farah's cousin Adam Hassan, who said they were "close".
"I'd never seen him do anything like that before," Mr Hassan told the jury.
Alley argument
Mr Hassan told the jury that he had been with his cousin and Mr Ismail on the day of the killing, but at about 20:00 BST he left them to go home and watch TV.
The teenagers were killed in an "execution" style shooting to the head during an argument in an alley, the prosecution claims.
Mr Farah died instantly, but Mr Ismail did not die until the afternoon of the following day in Milton Keynes Hospital.
Prosecutor Jonathan Price QC said the motive for the killings was "rivalry between criminals arising from the trade of illegal drugs".
He said it was the Crown's case that Mr Farah was shot for this reason and Mr Ismail because he was present and would have been a witness.
During the opening of the trial, the jury were shown CCTV images of both the accused in the area of the alleyway on the night of the shootings.
The jury has been told that, weeks after the shootings, police officers recovered the weapons used in the murders from bushes not far from the scene.
The trial continues.