WW1 Hertfordshire soldier 'saved by family photos'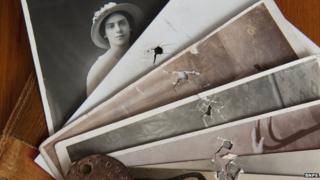 Shrapnel-pierced family photographs which could have saved the life of a World War One soldier have been donated to an exhibition in Hertfordshire.
Cpl William Taylor had eight pictures in a leather wallet in his left breast pocket during the Third Battle of Ypres in Belgium.
Shrapnel went through seven photos but was stopped from reaching his chest by the last picture of his sister Lilly.
Dan Hill from Herts at War said the soldier was "incredibly lucky".
Cpl Taylor, from Hertford, joined the Hertfordshire Regiment aged 23 and went to France on 5 November 1914.
He was a stretcher-bearer during the Battle of the Somme in November 1916 where his actions in rescuing fellow regiment soldier, Pte Winch, from No Man's Land won him the Military Medal.
But it was on 31 July 1917, on the first day of the Third Battle of Ypres - known as Passchendaele - that Cpl Taylor's own life was "saved by luck" and he was awarded a bar for his first medal.
The family treasures, which have been donated to the exhibition by Cpl Taylor's grandson David Taylor, meant he survived the battle at St Julien which killed about three quarters of his regiment.
'Bogged down'
"He was one of 620 soldiers in the Hertfordshire Regiment who were sent to attack a target and got bogged down by mud and barbed wire," said exhibition project manager Mr Hill.
"Within two hours, 479 of them had been killed or captured including all 20 officers.
"It was likely a shell exploded overhead, which caused the shrapnel which pierced the photos.
"[The regiment was] left leaderless and Cpl Taylor probably got the bar for acting as a leader."
The soldier escaped with a broken rib.
"Cpl Taylor's war was a poignant mix of incredible bravery and a good slice of luck which saw him make it through all four years of the conflict and come home to his family," Mr Hill said.
"We are proud to share his story and inspire others to look into their own family's history and come forward."
The items relating to Cpl Taylor's story and the stories of other military personnel from Hertfordshire who fought during World War One will be on show from August.