Hertfordshire placenta smoothies firm ban over 'health risk'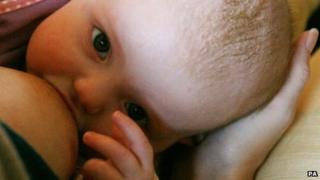 A company cannot process raw placentas for new mothers to eat, after a judge ruled it posed a "health risk".
The Independent Placenta Encapsulation Network (IPEN), based in Hertfordshire, makes smoothies and capsules that it claims have health benefits.
Dacorum Borough Council prevented IPEN from trading in October last year over concerns about bacterial contamination.
After the ruling at Watford Magistrates' Court, IPEN said it was "not the end of the line" for the firm.
IPEN founder Lynnea Shrief, of Berkhamsted, claims eating raw placenta can increase breast milk supply, help reduce the impact of post-natal depression and improve a sense of well-being.
The company had been trading for two and a half years when two emergency prohibition notices were issued by the council.
In what is believed to be the first case of its kind, District Judge Annabel Pilling upheld the orders.
'Imminent risk'
She said she was satisfied a placenta could be contaminated with staphylococcus aureus, present in the vagina of 10% of women and so "poses an imminent risk to health", as the council had claimed.
The court was not concerned with arguments for or against placenta consumption, she added.
Judge Pilling acknowledged the risk could be reduced if "appropriate procedures for handling and storage" were in place but said IPEN did not have a system to ensure the placenta was at least 8C (46.4F) when it arrived and had been kept at that temperature before it got there.
IPEN had argued that the placenta was cool when they received it and therefore presented no health threat but the judge said the company relied on information from the mother or birth partner with no means of verification.
The company had told the court it had supplied placenta products to about 130 mothers without any reported incident of food poisoning.
Following the ruling, Ms Shrief said a food safety expert had since been hired to put in place a new food safety management system, the details of which would be submitted to the council.
"I am sure they will be pleased with it. It is absolutely not the end of the line for us," she said.