Teenagers 'executed in drugs row' on Milton Keynes estate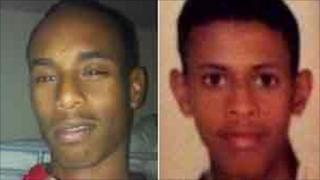 Two teenagers were murdered in an execution-style shooting over illegal drugs, a court has heard.
Mohammed Abdi Farah, 19, and Amin Ahmed Ismail, 18, were killed on a Milton Keynes housing estate in May 2011.
Luton Crown Court heard how they had been shot in the head at close range during an argument in an alleyway on the Fishermead estate.
Dutch international Brahim Hajji, 26, and Ahmed Ahmed, 20, of no fixed address, both deny murder.
The court heard a recording of a 999 call made by Lee Garrett, who had heard two gunshots from his home next to the alleyway.
"There's blood everywhere," he told the operator while looking at the scene. "It does look like he's been shot in the head, like gut-wrenching bad.
"There are two of them lying there."
'Drug rivalry'
As a third shot was heard during the recording, Mr Garrett said: "I'd get here quick."
Jonathan Price QC, prosecuting, said the shootings were the result of a "rivalry between criminals arising from the trade of illegal drugs".
He said Mr Farah had been shot for this reason, and Mr Ismail was killed because he was a witness.
Mr Farah died instantly, but Mr Ismail was taken to Milton Keynes Hospital, where he died the following day.
Mr Price said the shootings happened at 22:15 BST on 26 May, when a number of people were nearby.
"There was, you may think, a chillingly brazen character to these murders," he said.
"It was almost as if they didn't care who saw what happened."
CCTV footage of both accused men in the area of the alleyway on the night of the shootings were shown.
Two men have already been jailed for murder.
The trial continues.