Hertfordshire escaped rhea shot by gamekeeper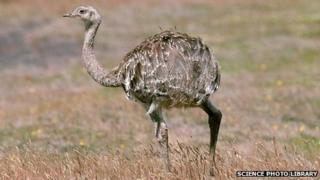 A runaway pet rhea which escaped from a smallholding has been shot dead.
The 6ft-tall flightless South American bird, capable of running at 40mph, had been seen regularly on the Barkway Park Golf Club near Royston, Hertfordshire.
Police were concerned the loose rhea could cause a car crash.
It is thought the bird was shot by a gamekeeper when it wandered into a field. Local people were said to be sad it had been killed instead of being darted and recaptured.
The gamekeeper is reported as saying it would be used to make gourmet sausages.
Insp Paul Davis of Hertfordshire police said: "We've not been able to see the carcass, but we have confirmed from another source the bird has been killed and its owner has been informed."
Jane Garner, who writes a community newsletter in the area, said many people locally were sad to hear of its demise.
"It wasn't being a danger and a lot of people were saying 'well, if you can shoot it, you can dart it'.
"So largely the feeling is it's a very sad, unnecessary thing to have happened."