Tony Abrahams stabbing: Boy raider cleared of murder bid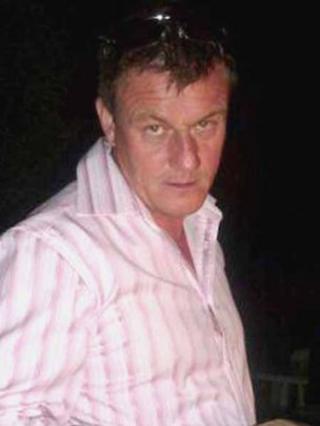 A boy who took part in a burglary in which a man was stabbed in his own home has been cleared of attempted murder.
Tony Abrahams was attacked in Willfield Avenue, Luton on 16 November, suffering a collapsed lung and pierced bowel.
The 16-year-old burglar was convicted at Luton Crown Court of wounding with intent and remanded in custody ahead of sentencing.
The court heard Mr Abrahams, 47, was woken at half past three in the morning by his 24-year-old daughter's screams.
He saw a 6ft tall man in a balaclava in his bedroom.
'Lucky to survive'
The intruder ran out, closing the door and holding down the handle so he could not follow him, but Mr Abrahams managed to hit the handle so hard it became loose and he got out on to the landing.
There he was confronted by the man, who he thought was in his early 20s, and two other smaller males, whose faces were also covered.
One was aged about 18 and the third was a small youth who he said was aged 16 or 17, and was shorter, younger and skinnier.
The father of two told the court: "I went to punch him. All I can remember was that I felt stabs to my ribs, side and above my buttocks.
"In total it lasted for three or four minutes, but it felt like forever."
Prosecutor Isabel Delamare said that after the ferocious attack the three burglars stepped over Mr Abrahams and fled the house through the front door.
Mr Abrahams was "incredibly lucky to survive," she said.
The 16-year-old youth's two accomplices have not been caught.
Judge Richard Foster remanded the teenager in custody for reports to be prepared.