Ernest Harper inquest: Call for council inquiry to be made public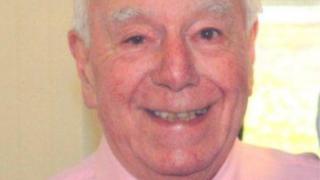 A 91-year-old man suffered fatal injuries while being helped from a council-run minibus, an inquest heard.
Ernest Harper, of Hanover Court, Bedford, fell from its tail lift as he was taken home from a day centre and died 16 days later in Bedford Hospital.
Bedfordshire assistant coroner Ian Pears said he would ask Bedford Borough Council to make its internal inquiry report public to prevent future deaths.
The council said changes had been made to the vehicle since the incident.
Announcing a narrative conclusion, Mr Pears told Ampthill Coroner's Court Mr Harper's death followed a "very tragic set of circumstances".
He said other local authorities used the same buses and he wanted them to be aware of the risks of using a tail lift.
'Legs gave way'
Mr Harper had been on his second visit to the Goldington Centre in Barker's Lane on 20 February having been discharged from a week in hospital a few days previously.
He was being helped off the vehicle outside his home when he fell between a gap between the handrail of the tail lift and the minibus itself, suffering multiple fractures and haemorrhages.
Passenger assistant Geoff Harris said he tried to grab him as he fell but "his legs just gave way".
He said staff would have used a wheelchair or not taken Mr Harper at all had they known he was prone to collapse.
The coroner questioned whether staff should have known about his hospital stay and what he had been admitted for.
Bedford Borough Council called Mr Harper's death a "tragic accident" and said replacement buses were being delivered this July which did not have the same gap.
It said it had identified some areas of operation which could be streamlined, but did not specify what these were.
Barrister Aneurin Moloney, representing Mr Harper's family, said they were "pleased" the coroner highlighted concerns over the council's procedures and practices and had agreed to make recommendations to prevent similar tragedies.