Burglary stab victim Tony Abrahams 'incredibly lucky' to be alive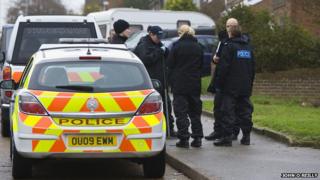 A Luton father was "lucky to be alive" after being stabbed at his home by up to three intruders, a court has heard.
Tony Abrahams, 47, was attacked in the early hours of 16 November, at his home after being alerted by his daughter's screams, Luton Crown Court was told.
Isabel Delamare, prosecuting, told the jury he was "incredibly lucky".
A 16-year-old boy, who cannot be named, has denied attempted murder, an alternative charge of wounding and burglary.
The court heard Mr Abrahams' daughter woke in the early hours to see two men with a knife in her room.
She screamed which woke her father who then saw a man in his own bedroom.
The court heard this man ran out of the room, followed by Mr Abrahams.
On the landing he was confronted by three men in total, one of them was aged about 16 or 17, he said, and their faces were covered.
"I went to punch him....all I can remember was that I felt stabs to my ribs, side and above my buttocks," his statement said.
"In total it lasted for three or four minutes, but it felt like forever."
He said he believed the taller man had delivered most of the blows.
Ms Delamare said the three men then fled the house but the fingerprints of a 16-year-old were found near the window of a downstairs shower room, where it is alleged they got in.
Mr Abrahams was "incredibly lucky to survive", she added.
He spent several days in Luton and Dunstable hospital where he was treated for four stab wounds, a collapsed lung and pierced bowel.
His daughter received a small cut to her chin.
The trial continues.