John Evans jailed for Luton murder of Mary Evans, his sister in law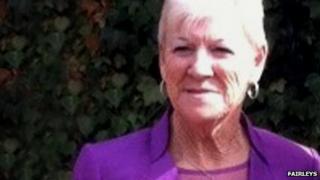 A man who admitted fatally stabbing his 70-year-old sister-in-law at the wheel of her car in Luton, has been jailed for life.
John Evans, 56, of Thames Court, Luton, had earlier pleaded guilty to the murder of Mary Evans.
Mrs Evans, known as May, was attacked in Trent Road on 18 November on her way to collect her grandson from school.
At Luton Crown Court, Judge Michael Kay QC, said Evans must serve a minimum term of of 22 years.
Mrs Evans had married Evans' brother, David, six weeks before her murder.
The court heard Evans was on his way to his late mother's house to see if it was up for sale when he happened to see Mary Evans getting into her car.
He attacked her with a knife as she sat behind the wheel.
Members of the public managed to apprehend him while also attempting to save the victim's life.
Det Insp Dave Grierson said "the lives of so many have been changed forever by what happened".
Mrs Evans family said they had been left "devastated" by her "untimely" death.
"This should have been a new beginning for May and David and they had so many happy adventures planned and were thoroughly looking forward to embracing their lives together," a statement said.