London Luton Airport expansion plan backed by government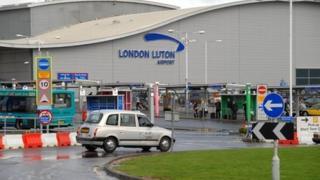 Expansion plans for London Luton Airport that would double its capacity to 18 million passengers a year have won government approval.
London Luton Airport Operations said its plans could allow 45,000 extra flights and create 5,000 new jobs.
Luton Council backed the plans in December but Communities Secretary Eric Pickles asked to review the decision.
Campaigners against the expansion have said it will bring an unacceptable increase in noise and air pollution.
The airport, which currently is the UK's fifth largest, handled 9.7m passengers in 2013.
Airport managing director Glyn Jones said the government's approval was "a real vote of confidence in the airport and its future".
"The opportunities it brings for the local economy, in terms of jobs and investment, are significant and Luton can now press ahead with making its local airport bigger and better, while remaining a good neighbour," he said.
Andrew Lambourne, from Hertfordshire Against Luton Expansion, said: "An extra nine million passengers a year can't just be swept under the carpet - local roads are already crowded.
"Planes will be taking off earlier in the morning and later at night."
The council said its December decision was subject to a range of planning conditions addressing concerns over noise, night flying and other environmental issues, including road improvements.