Shefford poison case dental nurse 'won battle of life'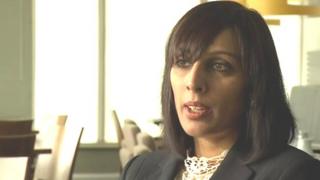 A dental nurse who was accused of poisoning her boss won "the battle of her life" when she was told she will not face a third trial.
Ravinder Kaur, 37, was alleged to have spiked Laura Knowles' coffee with mercury at Shams Moopen Dental Practice in Shefford, Bedfordshire.
A jury failed to reach a verdict last May, with a second jury doing the same earlier this month.
The Crown Prosecution Service (CPS) has said it will not seek a new trial.
Bedfordshire Police has also said the force will not be investigating further.
Ms Kaur was alleged to have poisoned dental practice manager Ms Knowles "in revenge" after being disciplined for leaving a patient in the dental chair and going for lunch.
'Left me ill'
She said she did not have the "mentality" to commit the crime and became "hysterical" when the allegation was put to her.
She had denied administering a noxious substance with intent throughout the two trials, both held at Blackfriars Crown Court.
Speaking to the BBC, Ms Kaur, of Bedford, said the allegation was first made several hours after she had made a coffee for Ms Knowles, on 16 March 2012.
"I broke down, I was in shock," she said.
"I was scared. Anyone facing serious criminal charges would be scared.
"And the painful thing about it is, I hadn't done anything. I don't have the mentality to commit such a crime.
"The entire experience left me ill."
'Weight off shoulders'
Ms Kaur has previously said the "emotional trauma" of the case had ended her career in dentistry.
She now finds it difficult to trust people, she added, and has changed from a "lively, bubbly, enthusiastic person" to someone "quiet, really sensitive and a bit paranoid".
Of the moment she was allowed to walk from court however, she said: "I felt freedom, I felt relieved.
"A huge weight has come off my shoulders
"I was really happy that I've won the battle of my life."