Man sought over attempted abduction in Milton Keynes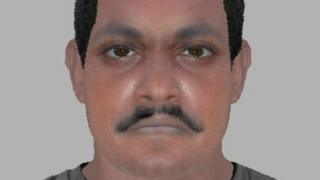 A man who tried to drag a screaming 19-year-old woman into his car in an attempted abduction in Milton Keynes is being sought by police.
Police have issued an e-fit of the man following the attack. It took place late on Thursday as the woman left a Co-op store in New Bradwell.
He asked her to get in his car three times before grabbing her by the waist and trying to drag her in.
She screamed and when some people came out of a nearby pub, he drove away.
Officers have issued a description of the vehicle - a dark blue, four-door car similar to a Ford Mondeo.
It had red and white beads with a red Ganesha elephant hanging from the rear view mirror.
Det Sgt Phil Turner-Robson, of Thames Valley Police, said: "This was scary incident for this young woman which could have turned out to be an even more serious incident.
"We would urge anyone who recognises this man from the e-fit or the description of the vehicle to tell us a matter of urgency."